Mobile and Business Cloud Computing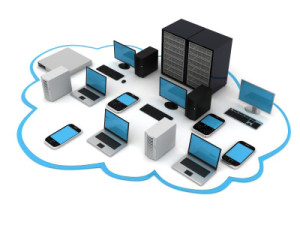 Cloud Computing for Business:
        Small businesses can access to new technologies with Cloud Computing & now they can save their money, too.
You can avoid wastage on money on simple tasks like install and update software, install and manage email servers, run backups. Cloud vendor takes the responsibility that all of the business of maintaining the services or applications.
Newly developed/updated application can be consolidated into one multi-application cloud computing service.
With cloud computing, for data storage you use third party servers, freeing up your PC for other purposes, you can save lot of memory of your PC previously used for File storage, data backup and software programs.
Many cloud computing applications include an Application Programming Interface (API), so that you can select compatible applications & you can save money to redevelop or update outdated customized applications.
These applications get regularly updated & you can use can be able to use latest features, so you can avoid spending time & money for it.
To grow your small business quickly you can start up with cloud. 'Buying a server, get it up and running and install software on it' is hard, because this process time & manpower consuming. It is Easy to sign up for a cloud computing application & by paying small fees you can start business expansion & your start up or expansion is cheaper, too.
Mobile Cloud Computing:   
Cloud computing can be understood in simple language as It having Front & Rear Ends. Front end deals with user & rear end is the cloud section of the system or server & these two ends are connected through network 'Internet'.
Cloud computing for mobile is very attractive, appealing & booming trend. The main benefit is that mobile have its own features related with size, battery life, weight with hardware & software developments. Today's mobile devices run with 1 GHz processor. So, the unnecessary features can be avoided by achieving cloud computing.
Cloud computing allows mobile devices to avoid unnecessary features by performing some of the time consuming & hard tasks be performed on systems and the result is send to the mobile device. It means that if we haven't included a particular constraint with the mobile device though we can add this feature virtually by using mobile cloud computing.
User perception of cloud computing performance relies on minimizing the overall delay response of these applications. The main contributing factors are:
Data center Processing Time
Processing time required on device
Network latency
Data transport time
There are certain issues & challenges in mobile computing; also solutions on these issues are coming up! High research is going on & in the nearest 3-5 years we will get amaze because of the high growth of the technology.
While going with the a you have to do good planning & you should choose good service provider to ensure your data security & privacy. There are some issues also comes up while using these applications but if you have reliable provider & if you planning is good, you can avoid the small flaws.
For more reading about technology news in singapore and seo to online marketing do view more about other pages.