What Is Knowledge Management
We know that there are two kinds of knowledge. One is explicit knowledge, which can be expressed in words and numbers and shared in the form of data, scientific formulae, product specifications, manuals, universal principles and so forth. Other kind of knowledge is tacit knowledge and it is highly personal and hard to formalize, making it difficult to communicate or share with others. Simply Knowledge Management (KM) means organizing an organization's information and knowledge holistically. Knowledge management is becoming widely accepted, few organizations today are fully capable of developing and leveraging critical organizational knowledge to improve their performance.
Very early on in the KM movement, Davenport (1994) offered the still widely quoted definition: "Knowledge management is the process of capturing, distributing, and effectively using knowledge." This definition has the virtue of being simple, stark, and to the point.  A few years later, the Gartner Group created another second definition of KM, which is perhaps the most frequently cited one (Duhon, 1998): "Knowledge management is a discipline that promotes an integrated approach to identifying, capturing, evaluating, retrieving, and sharing all of an enterprise's information assets. These assets may include databases, documents, policies, procedures, and previously un-captured expertise and experience in individual workers."
Meaning of the frequently used words:
Explicit: information or knowledge that is set out in tangible form.
Implicit: information or knowledge that is not set out in tangible form but could be made explicit.
Tacit: information or knowledge that one would have extreme difficulty operationally setting out in tangible form.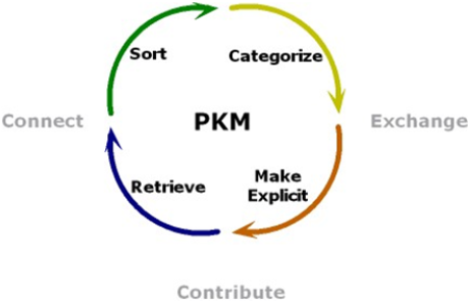 You need to understand how your customer database is designed, so that you can extract a particular report. Some benefits of KM correlate directly to bottom-line savings, while others are more difficult to quantify. In today's information-driven economy, companies uncover the most opportunities and ultimately derive the most value from intellectual rather than physical assets. KM is the process through which organizations generate value from their intellectual and knowledge-based assets. Most often, generating value from such assets involves codifying what employees, partners and customers know, and sharing that information among employees, departments and even with other companies in an effort to devise best practices.
Knowledge is commonly distinguished from data and information. Words like "data," "information," and "knowledge" are often used interchangeably. Some important differences between these words are:
Data is a specific fact or figure, without any context.
Information is data that's organized.
Knowledge, then, builds on the information to give us context.
The nature of the benefits from managing explicit knowledge depends on the type of application. Electronic publishing and other low interactivity, high-structure applications tend to provide a significant cost saving or increased efficiency. However, only 33 percent of enterprises that use knowledge management technologies have even come close to achieving the goals they originally set.
"With the maturation of the Internet, collaboration and knowledge sharing have become a standard way of conducting business, to the point where enabling technologies require functionality to address these activities," says Steve Cranford, a director in PricewaterhouseCoopers' Advisory Practice.  The focus of knowledge management is connecting people, processes and technology for the purpose of leveraging corporate knowledge.
For more reading about technology news in singapore and seo to online marketing do view more about other pages.