Designing a view Component : Part I
Designing a view Component:
Views are one of two aspects of boundary components from Jaconson's Analysis models.
Types of View Components
There are four fundamental types of views:
This includes any data presented on a visible screen. There are many forms of presentation including graphs, spreadsheets, listings, and so on.
Forms for data entry are also considered view components.
In this, the type of view includes menus, hyperlinks, site maps, and so on.
Informational screens or pop ups
This type of view includes welcome text, instructions, help screen, error messages, confirmation dialogs, and so on.
Soccer League Case Study:
Throughout this course you see examples of web application development based on a Soccer League domain.
For the purpose of this course, this domain is summarized by the following use case diagram, as shown in figure.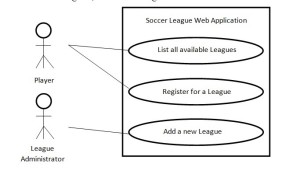 You see these three use cases developed within evolving web application architecture, the complexity of the domain has been kept to a developing skill.
List League Analysis Model:
An analysis model provides a set of abstract components that are needed to realize a particular use case.
The figure given below provides an example Analysis model for the List All Available Leagues use case.
It is beyond the scope of this course to teach you how to construct an Analysis model. However, the table given below is a summary of the three types of Analysis model components.
Analysis Model Components:
Component
Description
Symbol
Boundary
 A boundary component is any component that communicates with an end user of a system, There are two fundamental aspects of boundary components: view and controllers.
Service
The service component does provide a layer of services that communicate between boundary components and entity component.
Entity
An entity component does represent thedomain entities; such components usually do represent persistent domain data and can include complex object oriented behavior.
List League Page Flow:
Based on analysis model, there are two boundary components: Home and ListLeagues.
The Home component is welcome (or home) page of the Soccer League web application.
From the home page, a user can select the List all leagues hyperlink, which sends an HTTP request to the web application for the ListLeagues component.
The ListLeagues component does provide a view, which lists all of the soccer leagues that exist in the system.
These two pages are the complete web application. Another view of this web application is the logic hierarchy of URL's.
This hierarchy shows the complete set (and structure) of the URLs that a user can access while using the Soccer League web application.
Notice that list_leagues.view is a symbolic resource name. the web container dispatches an HTTP request for this URL to a servlet to dynamically generate the list of leagues.
You see how to develop that servlet and how to configure the URL mapping to that aservlet in this module.
Home Page HTML:
The code given below shows the HTML code for the first half of the home page.
<html>
<head>
<title>Duke's Soccer League: Home</title>
</head>
<body bgcolor = 'white'>
<!– Page Heading–>
<table border = '1' cellpadding = '5' cellspacing = '0' width = '400'>
<tr bgcolor = '#CCCCFF' align = 'center' valign = 'center' height = '20'>
<td><h3>Duke's Soccer League: Home</h3></td>
</tr>
<p>
This is the Home Page for Duke's Soccer League.
</p>
<h3>Players</h3>
<ul>
<li><a href = 'list_leagues.view'>List all the Leagues</a></li>
<li>Register for a league (TBA)</li>
</ul>
<h3>League Administrator</h3>
<ul>
<li>Add a new league (TBA)</li>
</ul>
</body>
</html>
Home Page HTML (Part 2):
In the above code shows the HTML code for the second half of the home page. Notice a hyperlink on line 22. The 'href' attribute does hold a relative URL path to the List Leagues page.
List Leagues Page HTML:
The code given below shows the HTML output code for the List Leagues page.
The soccer league list, lines through are generated dynamically, the rest is static HTML.
Later in this, there are instructions to develop the servlet to create the dynamic and static content.
<html>
<head>
<title>Duke's Soccer League: Home</title>
</head>
<body bgcolor = 'white'>
<!– Page Heading –>
<table border = '1' cellpadding = '5' cellspacing = '0' width = '400'>
<tr bgcolor = '#CCCCFF' align = 'center' valign = 'center' height='20'>
<td><h3>Duke's Soccer League: List Leagues</h3></td>
</tr>
</table>
<p>
The set of soccer leagues are:
</p>
<ul>
<li>the Summer of Soccer Love 2014</li>
<li>Fall Soccer League (2013)</li>
<li>Fall Soccer League (2012)</li>
<li>Soccer League (Spring's 03)</li>
<li>Summer Soccer Fast 2003</li>
<li>Soccer League (Spring's 04)</li>
</ul>
</body>
</html>